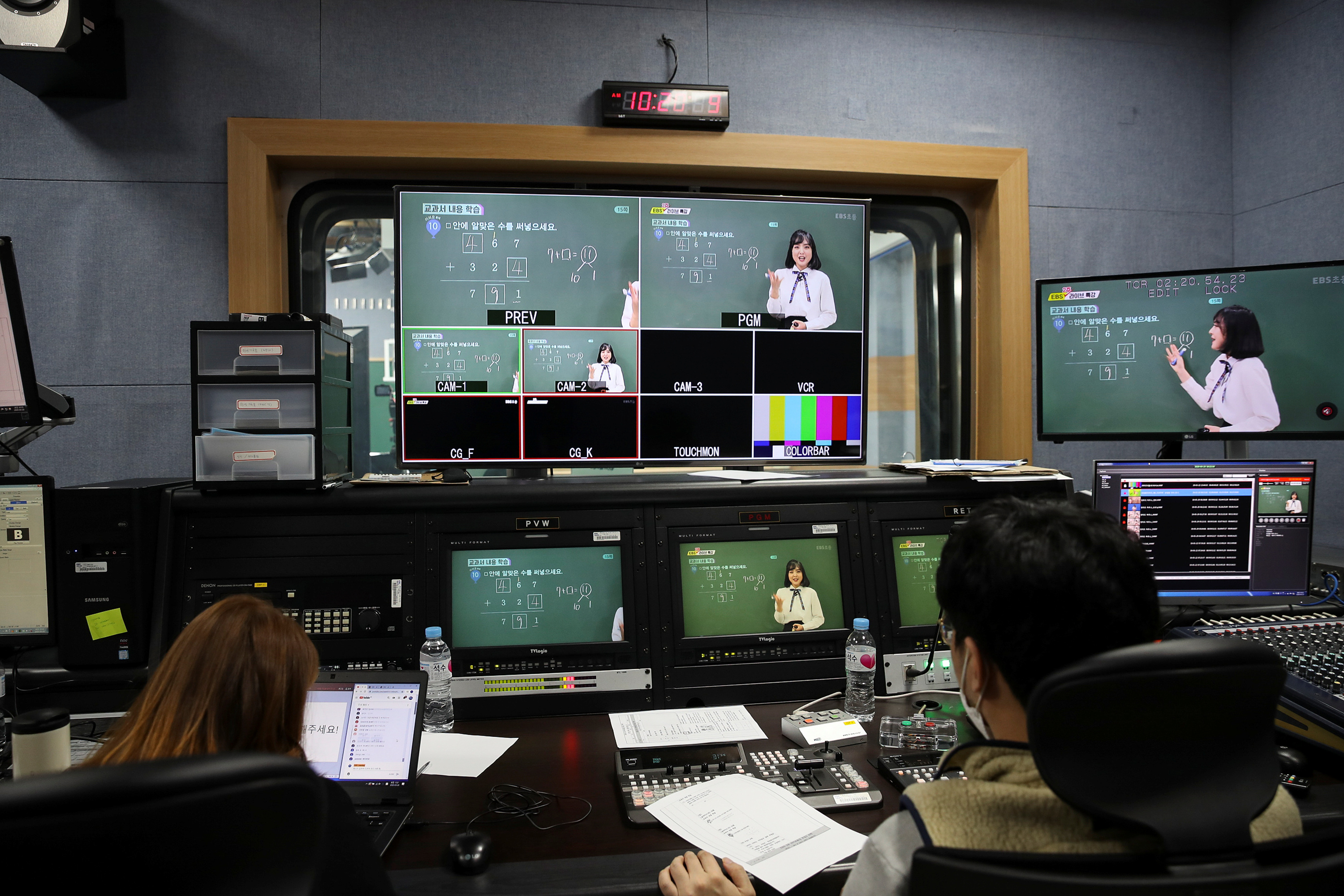 - EBS has urgently organized <EBS 2-Week Live Schooling Courses> for 1st to 12th grade from March 23rd (Mon) ~ April 3rd (Fri)
- With company-wide capabilities fully mobilized, 150 crews provide simultaneous live broadcasting of 472 classes across 10 studios
- EBS provides the same online live broadcasting with the timetables from the schools and you can download the EBS texts for free
- In response to COVID 19, we are providing the largest ever online education model in our history
With the opening days of the school term of elementary, middle and high schools postponed for another two weeks until April 6th, EBS (President Kim Myung-joong) mobilized 12 E-learning studios at their full capacity and organized the 'EBS 2-Week Live Schooling Courses' for all 12 grades of elementary, junior, and high school.
From March 23rd to April 3rd, 'EBS 2-Week Live Schooling Courses' will be provided for two weeks following the timetables of schools on the EBS elementary, middle and high school sites in order to keep up school progress for the new semester.
The existing Special High School Live Lecture targeted high school students, drawing attention from the public, and so EBS has expanded this new Special Live Lecture to all grades of students in elementary, middle and high school, as well as organized an unprecedented combination of simultaneous live streaming on the Internet using ten studios.
In terms of production scale, 150 crew members will specially produce 472 classes in ten studios and broadcast them in real time. To this end, EBS also introduced other devices for internet live streaming. EBS plans to mobilize company-wide capabilities such as disinfection and disease surveillance during the broadcast period by organizing a special team dedicated to COVID-19 in order to prevent daily live broadcasting from needing to pause.
'EBS 2-Week Live Schooling Courses' is an unprecedented and organized system not only in Korea but also amongst foreign broadcasters. In order to overcome the temporary paralysis of school functions around the world, EBS decided to fulfill its role as a designated "National Disaster Education Broadcasting Company" in close cooperation with the Ministry of Education and the Korea Communications Commission.
On the other hand, EBS textbooks that are used as lecture materials for two weeks can be downloaded free of charge from each EBS elementary, middle, and high school site. In the case of first and second graders, taking their development into account, EBS will broadcast "Adapting to School Life" and "Basic Course Contents" through the EBS Plus 2 Channel instead of live streaming it on the internet.
The 3rd to 6th graders can take classes from the EBS elementary site (primary.ebs.co.kr) from 9 am to 12 am, 7th-9th graders from 9 am to 1 pm on the EBS middle school site (mid.ebs.co.kr), 10th graders from 9 am to 1 pm, and 11th-12th graders from 9 am to 4 pm on the high school site (ebsi.co.kr) in the same way as school classes. In addition, all live special lectures and related learning materials will be available through a 'Replay' service at EBS elementary, middle, and high school sites. (*For the detailed schedule of each grader, see the attachment below)
'EBS 2-Week Live Schooling Courses' are expected to significantly resolve the learning gap caused by the additional postponement of the new semester through interactions with EBS's lecturers in real time through comments. 'Special Lecture for 5 Days Live,' which was urgently formed on March 9 due to the unprecedented postponement of the new semester, attracted more than 250,000 comments (as of March 17). On this online platform where teachers interacted with students, we found the possibility to succeed in new forms of learning.
EBS President Kim Myung-joong states, "As our advanced system to combat the epidemic is praised by people around the world, EBS's online live broadcasting can become a new education model in response to disaster in a global emergency where schools are closed."