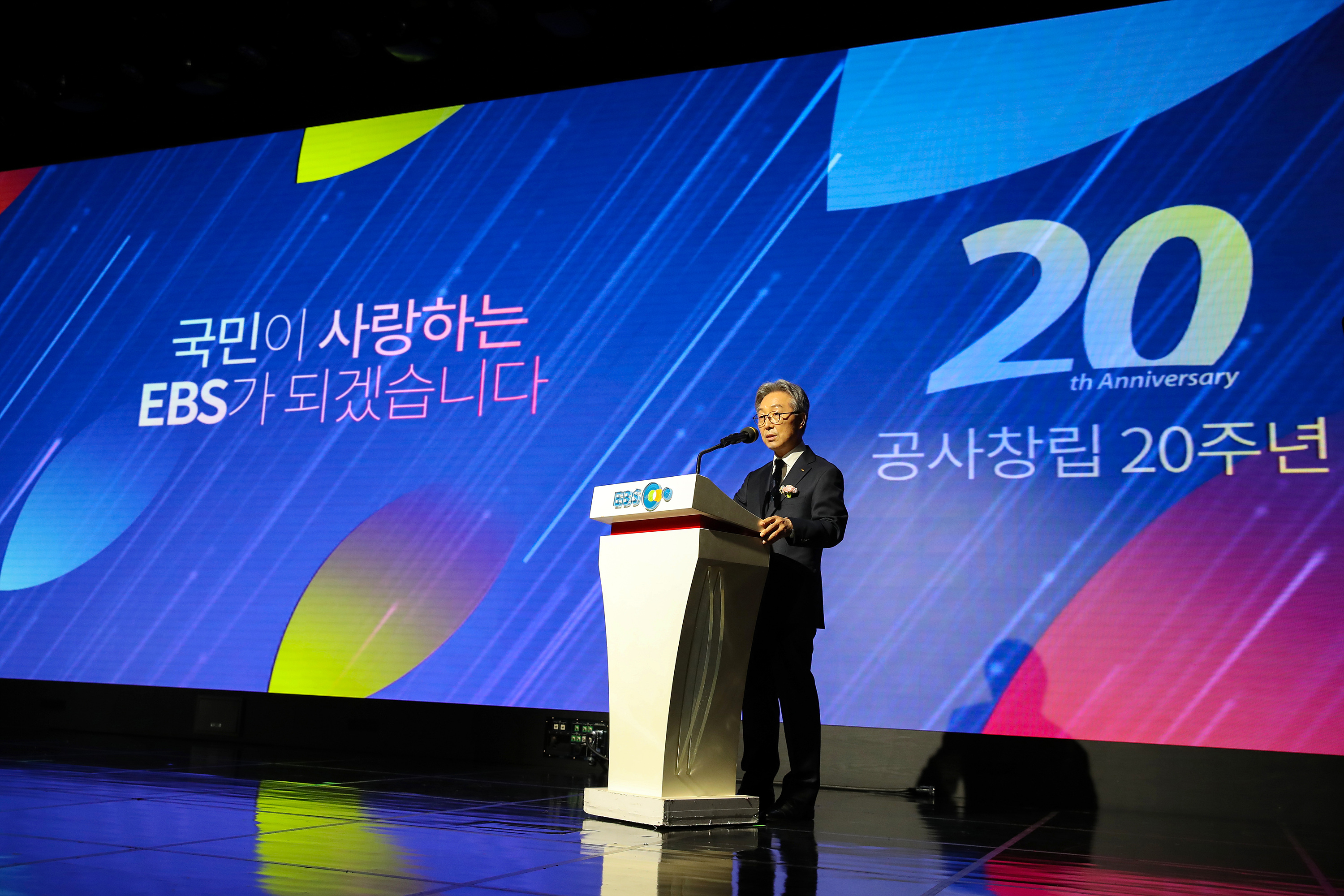 - The morning of June 19th (Fri), anniversary celebration held at the EBS headquarters' Space Hall
- June 22nd, 20 years since being established as a public corporation and 46 years since its founding,
- EBS always strives to be trusted and loved by the nation
EBS (CEO Kim Myung-joong) held an anniversary celebration at 11 a.m. on June 19th at the EBS headquarters
(Space Hall) in Goyang City ahead of the 20th anniversary of the establishment of EBS as a public corporation on June 22nd.
Congratulatory video messages were sent by President Moon Jae-in, Deputy Prime Minister for Social Affairs and Education Minister Yoo Eun-hae, as well as the Minister of Science and ICT, Choi Ki-young. EBS chief Kim Myung-joong, Korea Communications Commission chairman Han Sang-hyuk, and Democratic Party of Korea members Lee Yong-woo (Goyang D), Han Jun-ho (Goyang B) and Hong Jung-min (Goyang C) were in attendance.
In his congratulatory message, President Moon Jae-in said, "EBS set up online classes and worked hard to make sure that our students did not fall behind in their studies. Teachers also conducted live-stream classes for all grades, which was a first in the world. Everyone made a contribution and worked together to ensure that our students could overcome this unfamiliar and difficult situation." He added, "EBS is, and has always been, a kind teacher. This teacher says that 'every child is everyone's child,' and this mindset has given everyone an equal opportunity to learn. This teacher has always been by our side and has shown us that learning can be fun and rewarding. To EBS chief Kim Myung-joong, executives, and staff members who have worked tirelessly over the past 20 years to keep the passion for learning alive, and to the teachers and education institution staff who have shared their knowledge and wisdom, thank you."
In his speech, EBS chief Kim Myung-joong mentioned the value of EBS and what the public broadcasting company has achieved thus far, sharing what EBS has planned for the future. Kim said, "Together with students, parents, teachers, and education policy-making authorities, EBS will lead innovative efforts and open up the future of education." He added, "EBS will also focus on creating educational content for infants and young children – the leaders of tomorrow who will lead future generations – and contribute to building character and promoting creativity. We will also strive to create high-quality, wholesome content for all generations and become everyone's partner for lifelong learning."
Meanwhile, EBS has special programs lined up over the next few days in celebration of its 20th anniversary since becoming a public corporation.
On the 20th (9:00 p.m.) and 21st (9:05 p.m.) on EBS 1TV, it will air its grand education project, a 2-part series called <The Change>.
On the 22nd and 23rd at 9:50 p.m., it will air its 2-part Docuprime special <History of the Wild>.
<The Change> hears the voices of those who are the most important agents of education in the COVID-19 era and talks about the direction South Korea should take when it comes to the future of education. Part 1 'Where Are We Now?' follows 13 individuals – students, parents, and teachers – who share their honest stories of what they had to deal with in the education field due to COVID-19. In Part 2 'The Future of Education Has Begun,' 7 education experts analyze the current education system in South Korea and give their views on how we should prepare for and the measures we should take post-COVID-19.
Docuprime <History of a Wild> is a documentary that looks at the history and ecosystem of the Korean Peninsula from various angles, using the tiger as its central theme. Part 1 <Tiger's Country> takes a look at what tigers and leopards (beom) meant to the people of Korea, and travels to the far eastern regions of Russia, the only place where 'Korean Tigers' (Siberian tigers) and 'Korean Leopards' (Amur leopards) still live today, to capture their beauty in their natural habitat. Part 2 'The Tigers are Gone' looks at the natural ecosystem of the Korean Peninsula where tigers and leopards no longer exist, and explores the possibility of reintroducing them to the Korean Peninsula.